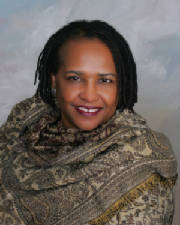 Rochelle A. Fortier Nwadibia

Ms. Rochelle A. Fortier Nwadibia is an international attorney and former Acting Chair and  Commissioner of the Missouri Commission on Human Rights with over twenty years experience as a human rights litigator, advisor, adjudicator and leader. Ms. Nwadibia is passionate about honoring the integrity of each individual.

Ms. Nwadibia has extensive  experience in government, higher education, and public servimce.  The Congressional Research Service has determined that Mohamed v. Gonzales, a case litigated by Ms. Nwadibia is the leading case in the country on female genital mutilation.

Nwadibia practices in San Francisco, California advising and representing local and  global clients in the following areas:
Human Rights
LGBTQ
Family visas
Business visas
Deportation Defense
Affirmative and Defensive Asylum
A graduate of Washington University School of Law, and the School of International  Affairs at Columbia University in the City of New York, Her work has been recognized by Washington University School of Law
and the
Congressional Research Service
.